Catalin is an award winning User Experience designer with 12 years of experience in the interactive design scene. Drawing on his background in architecture, art direction and programming, he designs experiences that integrate new technologies in people's daily life.

Catalin's work helped companies such as Nokia, Intel, Verizon, Siemens, Xnet (Vodaphone Romania), reach and redefine the way they communicate and interact with their customers.

He previously worked for R/GA (London & New York) and Headvertising (Bucharest). His skills in designing experiences span a wide range of initiatives and environments: from websites and web applications to touch screen, mobile and physical interfaces. He currently lives in New York and works at AKQA.

More recent work samples available on request.
Verizon Retail Touch Screen Interfaces
2008 to 2009 . Retail touch screen interfaces
Lead the interaction design for in-store touch screen interfaces. By providing easy to access product and service information, the interactive component of the retail environment helps smooth out the overall customer experience and improve their satisfaction.
+ screenshots and wireframes
Verizon.com and vzw.com
2007-2008 . marketing & e-commerce
Worked on various e-commerce extensions, product marketing webpages, usability and accessibility testing of the current and future versions of vzw.com.
+ screenshots and wireframes
Nokia N95 Global Campaign
2007 . global marketing campaign site
Nokia N95 is one of the first mobile phones to incorporate GPS / Wi-Fi and a decent web browser in one small package. Launched under the tagline 'what's in your pocket' the global media campaign was complemented by an innovative online competition that asked people to send videos of a surprising object that is in their pocket. After several thousands of submitted videos the winners' entries were edited into a new TV commercial Nokia couldn't be more pleased
+ video
+ screenshots and wireframes
Nokia N95, UK OOH Campaign
2007 . touch screen game, bluecasting
Launched at about the same time as the global campaign, Nokia UK asked us for some innovative out of home advertising. Our answer: large 40" plasma touch screens based memory games installed in bus shelters around London, slick product animations presented on 14 feet wide displays in London's major transportation hubs and bars and pubs video screen promotionals that were accompanied with bluetooth downloadable content. N95 became one of the top selling phones in UK.
+ video
+ photos and wireframes
Nseries.com Support
2006-2007 . mobile phones support site
Nseries is the flagship line of the Nokia phones and internet devices. 2007 marked the transition to the third version of their experiential site that was designed to showcase the Nseries line in the best possible light. Part of a large team, I've lead the development of the support section of the site and the design and integration strategy of the nseries pages on nokia.com.
+ wireframes
Intel.com redesign
2005-2006 . enterprise corporate website
My first project at R/GA, I was part of a team of four interaction designer tasked to translate the new intel identity into a proper website. Work included stakeholders interviews, requirements gathering, the redefinition of the product taxonomy, wireframing and launching the new website under a tight deadline.
+ screenshots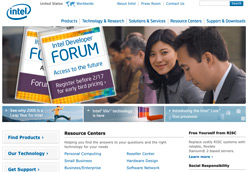 Living Jukebox
2004-2005 . interactive table design
A master thesis project, 'Living Jukebox' is a modular physical interface designed to ease the browsing and exploration of music in a living room environment. A 24" x 24" interactive table and display, it provides a unified gateway to music available from different digital sources. Different objects are placed on the table to bring up different playlists. Moving the object horizontally and vertically allows users to browse titles by albums or collections.
+ video of final installation
+ photos of installation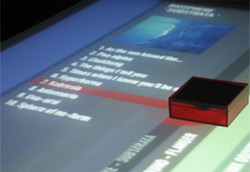 Radio automation software
2004 . open source software interface design

I was part of a team that drafted the interface design of one of the first free and open source radio management software. The application transforms an of the shelf computer into a live broadcast station with remote control and automation capabilities. The design process included field user research at local radio stations, paper prototyping and testing done with radio professionals and one week of intensive sessions with the developers.

+ process and screenshots
+ campcaster site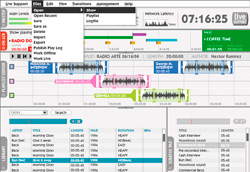 More projects and details available upon request.
Copyright Catalin Lazia 2012